There's a serenity to walking down the streets of New York City, encountering the grand aura of the elms that line the wide-stanced passages from Brooklyn to Uptown Manhattan, or the mosaic of tender strangers you meet along the way. These interactions become lifeblood to you distinctly, transforming the fabric of the culture you consume — the coffee shops with well-rounded lattes, the restaurants with all-natural wine lists, those that are demure with funk and effervescence. As a result, you become tethered to the people in these spaces and their stories. Who are they? What do they need? Your imagination begins to runs wild.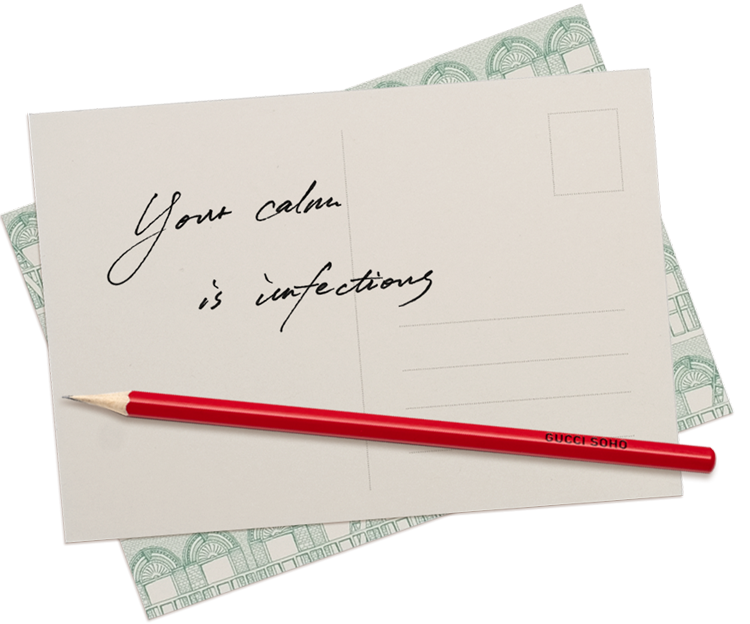 Gift giving is such an innate part of sealing a connection with someone; there's a sacredness to deciding on a piece and hoping it translates the love and feeling of warmth you carry for that person. We're also beginning to witness the buzz of the holiday season, and what better way to nurture connections more holistically than by buying someone you care about something illustrious? Turning to Gucci's cruise collection, I handpicked holiday gifts for a few of the stranger encounters in my daily life — Gerard, a server at my favorite restaurant; Didi, my sometimes tarot card reader and healer; and Lisa, the yogi. Ahead, read my letters to each of them, written on the brand's beautiful new stationery (which is available exclusively at the new Gucci Wooster Bookstore in its Wooster Street location, the ultimate gifting destination) to discover how they inspire me.

For the yogi at Heal Haus, my yoga home...

Lisa,

Your calm is infectious, as is the way you move — which is both rapturous and healing. I like the way you make me feel centered and whole after every class, forcing me to face myself and ask about my intentions. What makes a person be? — you question, challenging us, your students, to see ourselves in all our shiny complexities. There's that wonderful blue-cloud shawl you wear, spinning yourself with yarn after every class. I know you're conscious about recycling and zero plastic use, so I like this tote as a handy companion for your daily needs. You also remind me of these leather and mesh white sandals, embellished with gold. Gifts to feed your feet with both opulence and comfort.
https://www.refinery29.com/en-us/gucci-holiday-gifts-2018?utm_source=feed&utm_medium=rss